My Granada province guide including tips for the city of Granada too.
With 12,635 km2 to explore and 168 different towns and municipalities there is alot to choose from. Below you have access to information on the different areas in Granada province. (It´s like a directory of my blog)
I hope you find it useful to plan your trip to the region.
When is the best time to visit?
Complete Guide to Granada + its province
See this perpetual calendar with Granada activities by month, festivals and fiestas.
Thinking of moving to Granada? See my Frequently asked questions before a move to Granada Spain
Granada city
Albaicin quarter of Granada
Granada province
North
The top of the province has places such as Calahorra, Guadix & the Marquesado area, which I have visited. I had a great 4×4 experience in the Marquesado area. There are also lots of prehistoric monoliths to see around this region.
I also have on to my to do list the towns of Castril, Orce and Galera. Known for outdoor activities, nature and cave accomodation.
See this link for more about Caves
East
The Sierra Nevada ski resort in Pradallano has outdoor activites all year round. Find skiing classes and offers here
I love the town of Lanjaron such a tranquil place with a fantastic spa too. At the foot of the Alpujarras
The unspolit Alpujarra villages. Read about these remote places here This area was once the Silk Route of Europe. Read the full history here
Above Pampaneira there is even a buddist retreat located here for it´s peaceful location. I also had a trip around the Granada province in 2012, you can see my write up here.
South
Discover the beautiful Valley of Lecrin full of orange and lemon trees  or find a luxury way to see Granada province
Granada´s beaches are called the Tropical Coast. Here´s my A to Z guide
West
Read about the History of Santa Fé close to Granada´s airport. Information about Granada airport is here.
Find out about traditions in Lovely Loja
Films made around Granada province over the years
Poniente Granadino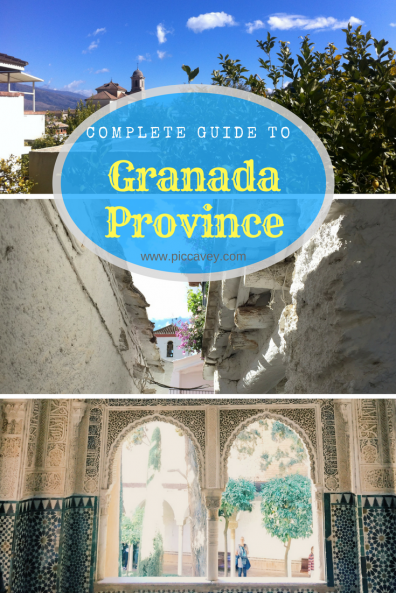 50 Things to Do Granada Spain – Alhambra Palace + Hidden Gems