The Capitulations of Santa Fé changed the history of Europe and the World. This town is to the west of Granada. Santa Fé is the location where the Capitulations were signed in 1492. It´s also known for its Pionono cakes. Everyone associates the name of Santa Fé with this typical Granada treat.
Piononos de Santa Fé
Pionono´s are cakes first baked by Ceferino Isla in Santa Fé in 1897. They contain lots of sugar and cinnamon. Honey and cinnamon are typical elements in Muslim cuisine. They are also common ingredients in Spanish cuisine now too.
Origin of Piononos
Piononos took their name from Pope Pius IX or Pio Nono in Latin. Piononos were designed for the Pope´s visit to Granada. Ceferino Isla a local religious man, wanted to honour this important visit.  The shape of the cake is the same round top as the Pope´s headdress. The original bakery La Isla is on Calle Real in Santa Fe and is still open today.
Buy piononos in cake shops throughout Granada. Try one if you get the opportunity…..they are delicious.
Capitulations of Santa Fé
The word, Capitulations means agreements or contracts. Specifically between Royalty and civilians. This statue below (on Gran Via in Granada) captures the moment of the signing of the documents in 1492.
The Capitulations of Santa Fe was an agreement between Christopher Columbus and the Catholic Monarchs. Signed in Santa Fé over 500 years ago. Although the documents actually took over 3 months to prepare, the originals have not been kept. The earliest copy is from 1493. The documents are in el Archivo de la Corona de Aragón. Also in Barcelona and Seville in the Real del Archivo General de Indias.
Santa Fé, New Mexico
You can actually look up this document as Capitulaciones del Almirante don Cristóbal Colón and see it online at Memoria UNESCO. In 1492 Santa Fé had an encampment set up by the Catholic kings. Located outside the city in preparation for the conquest of Granada. This town is just 11 kilometres from Granada.
This Capitulations document is a key moment in Spanish history. This agreement supported Columbus and his project to discover the Americas. Christopher Columbus would receive 10% of the riches and goods that he got along the journey.
As with other place names, Santa Fé was used for new settlements in America.  Santa Fé, New Mexico was conquisted by Francisco Vasques de Coronado in 1540. Some years later it became the HQ for the Spanish Empire north of Rio Grande. The Spanish conquistador Don Pedro de Peralta was key in growing the settlement in 1609-1610. Santa Fe is the oldest capital city in USA.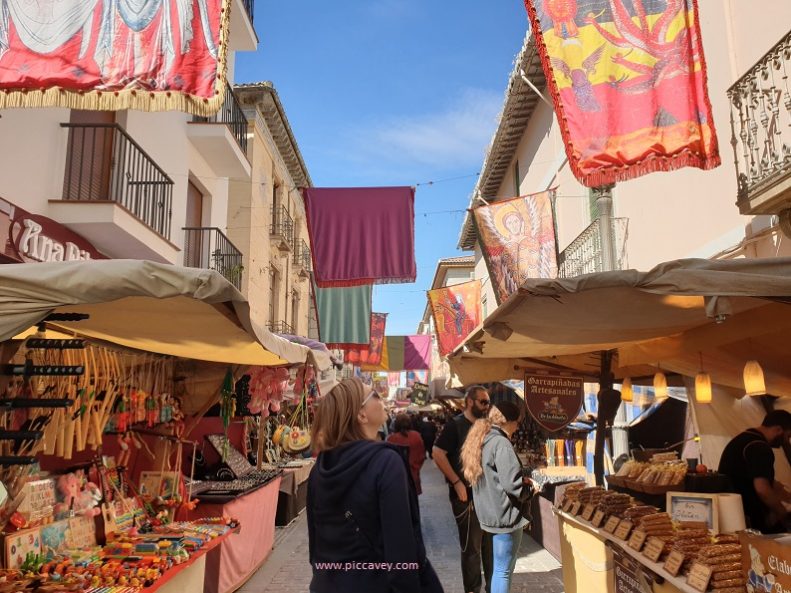 Medieval Market
Every 17th April Santa Fe celebrates this moment in history. This local holiday in Santa Fé and the town is a hive of activity. Bustling with street parades, dancing, and concerts. There are Medieval market stalls and plenty of children´s activities.
In 2019 over 100 stalls made up the market. They also have Falconry exhibitions and medieval dancing.
Capitulations Festivities
The stalls are along Calle Real and close to Plaza de España in the town of Santa Fé. Children's activities take place at Plaza Garcilaso. Storytelling, donkey rides and craft working sessions are just a few of the activities for the little ones.
The celebration usually take place on the third weekend of April each year, yet this festivity will not happen in 2020 due to COVID 19.
Summary
Article Name
What are the Capitulations of Santa Fe?
Description
Celebrated every year in April. The Capitulations in Santa Fe, Granada, Spain commerate Christopher Columbus & the Catholic Monarchs agreement to discover America. This small town close to Granada commemorates each year with a festivity and medieval market.
Author
Publisher Name
Publisher Logo