Uplifting News from Granada Spain
Keep updated on the positive new stories from Granada Spain. Good news updated here regularly. Stories will appear in chronological order from Granada, city and province.
22nd January 2021
Hurtan Launch a New Model
Granada car producer Hurtan have launched a new model which is ready to pre order. The Grand Albaycin by Hurtan is limited to just a 30 vehicle production in 2021.
22nd January 2021
Montefrio finds the missing Virgin
Traditional in many Andalusian villages. A small figure of a Virgin or Saint goes from house to house. In Montefrio the Virgen de los Remedios was following this local traditional until the lockdown stopped normal activity. The small portable Virgin figure seemed to be missing for months. Until this week when it was found in Montefrio in a nieghbours home. They had forgotten to pass it on with the recent restrictions in place.
More Trees Planted in Granada
Almost 700 trees are being planted in Granada between October 2020 and March 2021.
Granada plantará 693 nuevos árboles en los diferentes distritos de la capital
Bearded Vulture Chicks confirmed in Castril
16th January 2021
The first bearded vulture chicks have been laid after 35 years Sierra de Castril Natural Park, Granada province. More details: Return of Bearded Vultures to Granada
Demand for Granada Grown Tropical Fruit in Europe
16th January 2021
Continuous production of Avocadoes, Mangos and Chirimoya on the Costa Tropical leads to export growth from Granada province to European market.
COVID Vaccines arrive in Granada
27th December 2020
The first vaccines will be delivered on Sunday 27th December in Retirement homes. The first places to receive them are Residencia Beato Fray Leopoldo and the Hospital Clinico in Granada. As well as La Milagrosa in Armilla. There will be 18 vaccines centres in Granada. 9 of them mobile units to be able to move around the different regions of Granada. Care home staff and residents will be the first to receive the vaccine. Full story in Spanish
Winning Lottery Ticket Sold in Maracena
24th December 2020
Another National Lottery win on Boxing Day. Winners of the 1st Prize in Maracena y Montillana will receive 30,000 euros per ticket. The number was 36055. Source: Ahora Granada.
First prize Christmas Lottery Ticket in Granada
22nd December 2020
The Lottery Administration No.4 'La Estrella de los Millones' on Calle Principe sold the winning number 72897. El Gordo will mean 180 million euros in prize money for Granada residents. 45 series were sold in the historic centre of Granada, close to Bib Rambla square.
In the Albayzín, there have also been winners of the 4th prize. Over 100 tickets of this number were sold from the Plaza Larga lottery shop. The lucky number 75981 will payout 20,000 euros per 20 euros played.
Children´s Charity Christmas Collection
21st December 2020
Donate new or newly new StoryBooks + Teddy Bears to local childrens charities in Granada. Collection points are in the list that follows. On until December 30th. It´s organised by the Association of Easter Groups (Cofradías) in Granada.
The items will be donated to the Maternity Hospital, Foster care centres Pilar, Divina Infantita and Nazaret.
Collection Points
Iglesia San Matías + Jeweller Jorge Mario Calle Cuesta del Progreso 5.
Hi Diseño in Huetor Vega (opposite Stone Cross)
Bike Point Calle Agustina de Aragón 37.
Boutique del Congelado Avda. América 8.(Zaidin)
Merceria Saez Calle Libreros (opposite el Sagrario)
Libreria Troa (DAURO). Calle Zacatín 3
Entre Relinchos C/Pintor Manuel Maldonado 50. (Opposite Football pitch)
Spazio Confort en centro Kinepolis
Hotel B&B calle Luis Buñuel 1
Librería Alfahuara Calle Portón de Tejeiro 27
Papelería Estrellitas Calle Portón de Tejeiro 20
Librería San Antón Calle San Antón 75
Hermandad del Huerto de los Olivos Calle San Antón (deliver them to the cake stall)  Site of Previous San Anton Convent
Cofradía de los ferroviarios, Calle San Juan de Letrán 1 At the Nativity Scene from 11am to 1.30pm and 5pm to 9pm
First tree planted in the Skyline project for Granada´s Green Belt
21st December 2020
8.5 hectares of land have been assigned by Granada Town Hall to the skyline project. From now until 2031 they plan to plant 201,300 trees. An amount that will be able to capture more than 200,000 tonnes of Co2 over the next 40 years.  The trees will be Elms, Oaks or Mediterranean hackberrys. Today 21/12 the first tree was planted on Calle Coso by the Mayor of Granada and will be one of 675 in that part of the city. This project is a collaboration with the Foundation Plant for the Planet. (source Ahora Granada)
New Motorbike for Granada CF Greenkeeper
21st December 2020
Granada CF are not only a team on the pitch, they are clearly united with all the staff at the club. Greenkeeper Fernando Centeno recently had his motorbike robbed. It was his usual method of transport to get to work as a greenkeeper at the Andalusian Football Club. The players didn´t think about it and quickly raised the funds to buy him a new bike between them. Full story in Spanish in Marca: Granada CF
University Budget increased for 2021
21st December 2020
The budget for the UGR´s next academic year is 3.7% more than the previous year. The 498,4 millon euros will be used to maintain university buildings, academic staff and in IT equipment. (source ahora granada )
Sierra Nevada Ski Resort Opens 2020/2021 Season
178h December 2020
With a limited capacity of 6000 skiiers, Sierra Nevada opened on 18th December with 30 kilometres of piste. Snow cover was between 30 and 100 cms. With special COVID protocols in place they previously tested them out on Federacion skiers training in the resort.
Letters to Elderly Churriana de la Vega Residents
15th December 2020
The Town Hall of Churriana de la Vega has set up a letter writing initiative to support their local pensioners. Post boxes and an email account have been created so that neighbours can send drawings, letters and poems to those in care homes in Churriana de la Vega to combat loneliness this festive season.
Las Gabias Flamenco Festival
15th December 2020
Wednesday 16th December at 7pm. There is a Christmas Flamenco show at the Teatro Municipal Las Gabias. Get Tickets via Eventbrite or watch streaming on You Tube
Granada Food Bank Donations
14th December 2020
Granada´s Food Bank Collection has received 486.000 euros in donations. Rather than collecting food items at supermarkets as in previous years. This time the organisation Banco de Alimentos de Granada opted for donations. In a challenging year the need for this local charity has greatly increased as people needing support to feed their families has grown during the COVID crisis.
4 Medals for Granada Gymnasts in National Championships
11th December 2020
Young local gymnasts won 4 medals at the Spanish National Championships held in Valladolid earlier this week. The competition of Rhythmic and Acrobatic Gymnastics followed strict guidelines to be comply with anti covid regulations.
Restrictions eased in Granada from 12th December
11th December 2020
12th December until 17th December
You can move freely around Granada province
Shops and business may open until 9pm
Curfew remains from 10pm until 7am
Cafés Bars and Restaurants can trade from 7am until 6pm
17th December – 23rd December + 7th-10th January
You can move freely around Andalucia and its provinces
Shops and Business can open in their normal timetable
Restaurants Cafés and Bar can open from 6am until 6pm and from 8.00pm to 10.30 pm
Curfew remains from 11pm until 6am
Sierra Nevada ski station opens
23rd December to 6th January
Visitors are welcome to see family members in Andalucia
 On 24th 25th, 31st Dec and 1st January Groups of up to 10 people are permitted. But only from two family units
On the rest of the days 23rd, 26th, 27th, 28th, 29th, 30th, 2nd, 3rd, 4th, 5th and 6th January only 6 people are allowed to be together.
Curfew remains from 1.30am until 6am
Poinsettias donated to Granada hospital
11th December 2020
1000 poinsettia plants have been donated to the Virgen de las Nieves and San Cecilio Hospitals. The donation by the UPA (Unión de Pequeños Agricultores y Ganaderos de Andalucía) highlights the problems that this sector have suffered over the pandemic. With restrictions limiting their sales of plants and flowers. Their generosity will fill the wards with colour this festive season for both patients and staff in the local hospitals.
Granada Town Hall´s 30000 Christmas Transport Vouchers
9th December 2020
To support the local businesses in the city centre. Granada town hall will offer  7800 parking passes for 2 euros, 6000 Rober bus cards for 2 journeys and 5000 5 euros vouchers for public transport. It´s thought that this Parking and Bus Pass initiative will help to encourage people to buy locally rather than relying on internet purchases. (source Granada Hoy)
Post Office supports Local Convents this Christmas
The comendadoras de Santiago and other Granada convents rely on their Christmas sales to support their projects. This year with fewer visitors to their convents, sales are limited. Correos have offer to distribute these traditional cakes made at the convents across Andalucía this festive season. (source la Vanguardia) More information: Comendadoras de Santiago Granada
Market Presence of Granada Subtropical Crops Increases
9th December 2020
Fresh plaza report the Growing Market Presence for Granada´s Subtropical Crops such as guava, kumquat and cherimoya fruit. 20-30% of the produce is exported internationally
Granada Town Hall hands out 100 breakfasts bags everyday to the Homeless
8th December 2020
This project is in addition to the other resources against homelessness in Granada. To help on the coldest days of the year over 100 breakfasts are given out daily. The food bags are handed out from 7.30am at social centres. Each bag has has biscuits, sandwiches, coffee and pieces of fruit. (source ahora granada)
AIREF recognises economic sustainability efforts at Granada Town Hall
7th December 2020
The Spanish Independent Fiscal Responsibility Authority (Airef) has recognised the efforts at Granada Town Hall in the economic management of the city´s budget across all departments. Over the past two years the improvements are significant and look positive for following years. Shifting from a situation of medium risk in 2016, the evolution has been progressive and steady. The Airef encourages Granada Town Hall to continue in the same direction to guarantee a sustainable financial future for the city and its citizens.  (source: Ahora Granada )
Granada Metro System Emergency Drill
6th December 2020
Granada´s Metro system has run an emergency drill to test their preparations in case of a major incident. Recreating a tree fall on one of the power lines of the tram system. The drill was done near to Fernando de los Rios and Sierra Nevada stops in Armilla. This exercise has improved the training of the technical team in Granada. They also ran another simulacrum on the night of 3rd December to test bomb disposal inside one of the tunnels. Using a robot to diffuse the explosive. The TEDAX special unit checked on protocols as well as exit strategies in the tram stations for passengers. (source ahora granada)
Particle Accelerator due in Escúzar next year
5th December 2020
Recent meetings of the IFMIF Dones project should good progress. At the end of 2021 a particle accelerator will be installed in Escúzar, Granada. The project will attract European scientific collaborations and counts on an budget of 400 – 600 million euros.
Smoke Detectors for Andalusian Residents over 90 years old
5th December 2020
In an initiative to prevent house fires in Andalusia. The Junta de Andalucía will install smoke detectors in homes of 90 year old residents. They calculate that over 20,000 users of their teleassistance service will receive this safety measure this winter. (source Granada Digital)
Hubble Captures Fading of the Stingray Nebula
4th December 2020
Granada scientists at the Instituto de Astrofísica de Andalucía in Granada, Spain are part of a team that have captured rare images from the Hubble Telescope. Showing a rapidly fading shroud of gas around an aging star.
Granada CF through to Europa League Knockouts
4th December 2020
Despite losing the match against PSV last night 0-1, Granada qualify for Europa League Knockouts. A historic achievement for the rojiblancos. Dutch player Donyell Malen scored in 38th minute, the only goal of the match.
Granada CF have their next match against PAOK (Panthessalonikios Athlitikos Omilos Kons) on Thursday 10th December.
Montefrio Christmas Lights Donation
4th December 2020
Businesswoman María Antonia Pérez of Porgesa Illuminación (Puente Genil, Cordoba) has donated this years Christmas Lights to the town of Montefrio. Porgesa is one of the most important producers of festive lighting in Spain but due to fewer orders this year the factory has been producing other materials for healthcare during the pandemic. For 13 years the town of Montefrio is lit with decorations from Porgesa and this year is no different. Thanks to this generous offer the town hall will be able to save their budget for other purposes during these tricky economic times. (source Granada Digital)
Three Kings to Visit Children at Home in Maracena
4th December 2020
Children under the age of 9 will receive home visits of the three kings this year. Traditional parades are not being done this year. Town halls are finding alternative ways to celebrate their local traditions. The visits to Maracena families will be organised in time slots of less than 15 minutes and in small groups. The three kings will undergo PCR tests on the 5th January before visiting the children. In Vegas del Genil they are planning a similar initiative. (source Ahora Granada)
Students Campaign for Burger Bar
3rd December 2020
Medical Students at Granada University have launched a Go Fund Me Campaign. Supporting Burger Bar Los Pepes. Which closed since COVID restrictions affected University life. Bar los Pepes is at the Medical Faculty at Granada University. They open from 6.30am until 8pm normally. Providing an important service to the students at this campus.
Lanjaron will only use Recycled Plastic
3rd December 2020
Water bottling company Lanjaron will only use Recycled plastic bottles for their packaging in 2021. i this was planned for 2025 but Danone have be able to bring forward this date. The company is also working on reducing carbon emissions in the area of the water plant. These improvements are in place from now until 2025.
Monachil Mill Improvements
3rd December 2020
The Junta de Andalucía concedes 50000 euros investment to improve Monachil Olive Mill. This historic building in Monachil will get a better access and visitor parking once work is completed.
Carbon Offsetting with Olive Trees
3rd December 2020
Granada university offsets the carbon emissions generated by an event by planting 5 Olive Trees at the Cartuja Campus. The conference about Circular Economy is calculated to have generated 0.7 tonnes of CO2. The five olive trees planted will take around 7 years to fully offset the emissions. (source Granada Digital)
Motril Port Improvements for Cargo
3rd December 2020
Motril port has expanded its logistics area with a new space to accomodate more cargo shipments. The 14000 square metre space will be ready in early 2021. This new logistics area will allow the port to continue to expand its operations and take larger cargo deliveries.
Motril Skate Park
2nd December 2020
In October work began on this new outdoor space in Motril, next to Cardenal Belluga school. Now as the construction advances Motril Skate Park begins to take shape. There will be a café on the site and two children´s play areas. The development counts on a 2 million euro budget and is due to open in Spring 2021.
Granada Hospital Ranks 3rd in Andalusia Quality Certification
2nd December 2020
Granada´s Hospital Virgen de las Nieves has ranked third in Andalusia in a certification carried out by the Agencia de Calidad Sanitaria de Andalucía (Andalusian Healthcare Quality Agency). 14 hospital departments receive recognition in the Servicio Andaluz de Salud study. Highlighting the quality of the services at this Granada hospital and excellence in the healthcare in the city.
IKEA Service Point in Granada
2nd December 2020
Ikea Malaga now offers a local Granada Pick Up Point – CC Nevada for customers who order online. It costs 5 euros per delivery. The service point is located in the basement floor of Nevada shopping centre and will open from 9am to 6pm Monday to Saturday.
Yayo Carbonell represents Granada at Dakar 2021
2nd December 2020
Local Granada man to compete at the Dakar rally this year is Yayo Carbonell (born in Almuñécar) He will ride his KTM 450 cc motorbike through the challenging desert route. Setting off in January 2021, he will participate in the Original by Motul category. Following the same route as the other riders, but receives no assistance from mechanics or healthcare on arrival to camp. With just 80 litres of water and enough spare parts to endure the 12 stage race, Yayo believes that it is a purer way to experience the Dakar.
Granada Uni Spin Off wins 10,000 euros in funding
2nd December 2020
Dental implant spin off NanoMyP has been granted 10,000 euros in funding. Awarded by the Agencia IDEA (Junta de Andalucía) this cash injection will facilitate their participation in the European Programme 'EIC Accelerator Pilot'. Giving them chance for further funding and increase visibility in Europe. The project allows damaged bone to regenerate in a few weeks. A technique useful for dental implant applications and in the case of dental rehabilitation. (source Ahora Granada)
Granada Museums Reopen
2nd December 2020
The Alhambra Palace and Parque de las Ciencias have reopened after the November lockdown. The Aljibe del Rey is also open for guided visits in groups of 6. The tours are at 10am, 11am, 12 noon and 1pm.
Also worth noting is the Christmas programme at three Granada museums. Guided tours, children´s workshops and online activities will be on throughout the Christmas holidays. More information Museos de Andalucía
Museum Casa de los Tiros (Calle Pavaneras)
Archaeological Museum (Carrera del Darro)
Fine Arts Museum (Palacio Carlos V, Alhambra)
Granada University presents Antique Globe Restoration
1st December 2020
An Antique globe from 1875 is restored at Granada University. Depicting the position of the stars on 1st January 1850. Made by Alexandre Delamarche. This constellation globe was typical of those used by Astrologists, Scientists and Mariners in 17th and 18th centuries.
Diputación de Granada Supports Local Charities
1st December 2020
Granada´s Provincial Council, Diputación de Granada confirms Financial Support for 446 Granada charities and associations  460.880,50 euros is an increase on the previous years budget. 20% more than in 2019. Cáritas, Cruz Roja (Red Cross) Fegradi and Granada´s Food Bank are just some of the entities receiving this money.
Granada to receive more medical equipment +  supplies
1st December 2020
Granada will receive more than 5 million euros in healthcare supplies  5396960.46 euros has been approved by the Andalusian Government to supply medical equipment for local hospitals and clinics. These urgent supplies include protective clothing, medications, instruments, cleaning products and laboratory equipment.
December 2020 Good – News from Granada Spain
Fibre Optic Coverage to Roll Out in Granada
30th November 2020
Granada´s Provincial Council, Diputación de Granada confirms that 100% of Granada province will have Fibre Optic Coverage in the short term. Following a meeting with Roberto Sánchez, Spanish Government Secretary of Telecommunications & Digital Infrastructure.
Space University launches joint program for 2021
30th November 2020
The Space University announced the launch of the 2021 International Space University's itinerant Space Studies Program. The 9 week course will be held in Strasbourg + Granada to offer one Space Studies Program. Featuring 150 Space experts. The course will cover subjects such as Space Engineering, Space Applications or Human Performance in Space.
Shops & Bars Reopen in Granada
30th November 2020
After 21 days of closure, cafés, bars and shops reopen in the city. Although other restrictions remain in place. There is still limited mobility between towns and villages. It is good news for many small businesses who can open up to trade until 6pm.
Granada: Christmas Lights are On
29th November 2020
Sunday 29th November 2020 6.30pm local time. Granada´s Christmas Lights are on. The switch on was not announced to avoid crowds. The illuminations will be up until the 6th January 2021. Although 32 neighbourhoods in Granada have Christmas lights along their streets the main displays are in Bib Rambla, Puerta Real and the city centre.
Also the Ferris Wheel on Paseo del Salon will be working over the festive holidays.
Snowfall in Sierra Nevada
26th November 2020
Sierra Nevada is the first Spanish Ski resort with snow this season. 70cms snowfall covered the highest altitudes. In the resort town of Pradallano between 40cms-50cms fell. The opening of the 2021 ski season  is under review due to COVID-19. It is possible that should the opening go ahead that Mid December could be the beginning of the 2020-2021 season. The announcement is due on Thursday 10th December.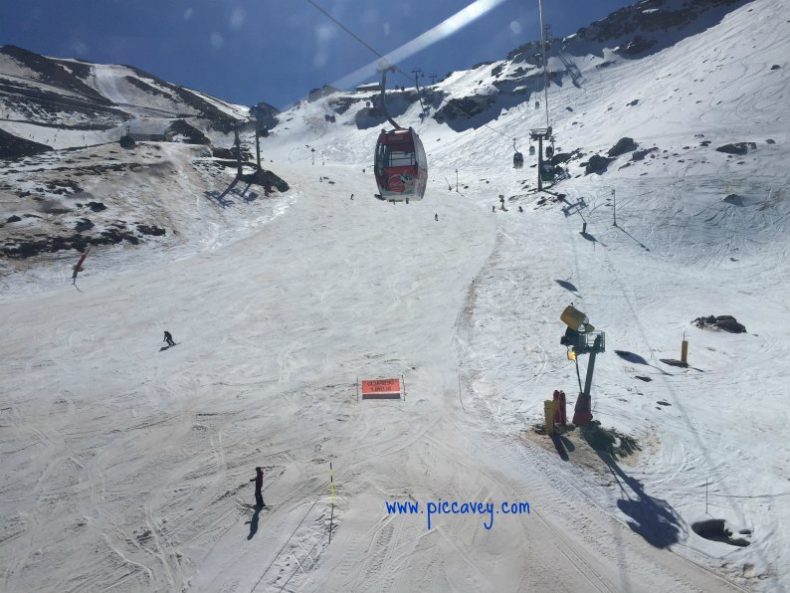 Granada FC win 6  of 7 Europa League Matches
26th November 2020
Granada FC win 2-1 against Omonia Nicosia Cypriot at Los Carmenes. Trainer Diego Martinez says Winning six games out of seven in Europe is outrageous. In the clubs debut in the Europa League things are looking promising. The next match is 3rd December at 9pm CET against PSV Eindhoven.
Less Light pollution over lockdown
26th November 2020
The City of Granada experienced 45% less blue light pollution.  Results recorded between March through to May 2020 during lockdown. More details in this Study shows lower light pollution during COVID-19 lockdown in Granada
Good News from Granada Spain
The news thread is to share positive news happening in the city and province of Granada.