Best Tapa in Granada
Granada de Tapas is on every Springtime for several weeks. Chefs from Granada participate in this annual foodie festival. Showcasing one of the main attractions of the city of Granada. Locally produced food, great gastronomy and it´s Tapas culture.
So these high quality tapas will be on sale throughout 4 week festival. Each edition they have a list available with participating bars and restaurants. The locations are all over the cities neighbourhoods. Not just in the historic centre.
New Dishes in Granada Tapas Bars
Typically there are lots of creative entries in each edition. A great way to showcase the best gastronomy and quality produce from the local area. Over the tapas festival enjoying a bar crawl around Granada. Bar hopping to taste the different creations is a fun activity for a spring evening. Every year the level of creativity seems to go up a notch.
This years festival starts on Monday 10th May and lasts until Thursday 10th June 2021. Often the winning tapa and a few of the finalists may still make it available after the competition. Allowing other customers to try the years best entries.
Tapas Bars Compete
So how do they choose the winner?
A panel of Food Critics & Hospitality experts taste all the entries from until they have sampled them all.
A short list includes the 8 best tapas entries.
From this shortlist the winners are decided. They are announced at the Palacio de Congresos on Friday 11th June 2021.
There are three winnings tapas that are selected for 1st, 2nd and 3rd prizes. The tapas competition is sponsored by the Beer company Cervezas Alhambra.
Granada Tapas Fair
Will be announced at Granada Town Hall in Plaza del Carmen.
In the previous edition in 2019 around 70+ Granada restaurants took part in the competition,
Previous Winners were:
2021 – Gastrobar Qübba (Hotel Santos Saray) – Chef José Miguel Magin "Y se fuet pa la Costa"
2020 – Edition cancelled.
2019 Winner Restaurante La Tarasca "Gachas picantonas de la Alpujarra" Chef Antonio Ledesma
2018 Winner Puesto 43 this seafood restaurant on Plaza de Gracia won with their tapa ´sin raspa por favor´
2017 Winner La Milagrosa Irrevente Nicolas Chica with Slow Cooked Segureño Lamb with Loja Cream Cheese, dehydrated tomato from Zafarraya
2016 Winner Loewe Gastrobar Chechu González – Bull Tail canelloni with mango and octopus
2015 Winner Boqué Bar Antonio Cañizares – Fish Tomato & caviar
2014 Winner Mandala Egg foam with potatoes, chistorra and black pudding crackers
2013 Winner Panoramic 360 Secreto ibérico relleno de calabaza al ajillo envuelto en costra de frutos secos con cristal de patata, aire de queso de cabra
2012 Winner Carmen de San Miguel
2011 Winner Saffron Gastrobar Brocheta de pollo y manzana en tempura crujiente de Alhambra de 1925 sobre puré de aguacate tropical y jengibre (Chechu González + David Reyes)
Make sure you see as many of the participating tapas bars and restaurants over the days of the festival.
You may be lucky enough to savour one of the winners!
---
Local Granada Tapas with me
If you want to discover Local Chefs, Traditional Businesses and the best foodie corners of Granada.
Come along with me and experience the Taste of Granada Tour. Each day this city walk leads you to some of the local shops to sample different products grown in the province. You will also get to see creations of local chefs and step into family run businesses spanning 4-5 generations.
Choose the morning tour starting at 11am or the evening route at 6pm.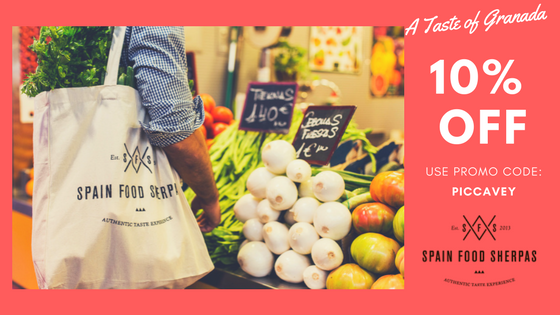 Spain Food Sherpas
At the moment Spain Food Sherpas are kindly offering Piccavey readers 10% off for these tours.
Use when booking on their website with the promo code on the voucher above. Foodies visiting the Alhambra can enjoy local produce and Andalusian culture when staying in the city.
You can also book the Granada food tour on Viator (although discount doesnt apply)
Participating Restaurants + Tapas Bars in 2021
La Caprichosa de Párraga, Párraga, 3
Taberna Los Trastos, Sarabia, 13 – Pork in beer sauce with sweet potato and sobresada
4 U Hostel, Coches de San Matías, 15 – Surf and Turf Roll
La Cueva de 1900, Calle Reyes Católicos, 13 – Patatas Bravas with Kimchi foam and traditional Sauce
El Secreto de Humphrey, Calle General Narváez, 3 – Alpujarran Dish (seen below) **SHORTLISTED as 2021 FINALIST**
Siete Gatos, San Antón, 85 – Spanish omelette with salmon and prawns
Bar Raygo, Marqués de Mondéjar, 2 – Grandad´s Croquette
La Cavilla, Calle Aben Humeya, 21 – Broad beans
Alhamar, Plaza Alhamar, 26
Casa Salvador, Calle Duende, 6 – Alpujarra tapa
100 Montaditos, Acera del Darro, 24
Garden Plaza, Plaza General Emilio Herrera, 5
Restaurante Aparicio's, Martínez Campos, 19
Granada Tapas Bars (continued)
Casa Castañeda, Bodegoncillos, 4 – Ham and Broad Bean Swirl (seen above)
Gran Café Bib-Rambla, Plaza Bib-Rambla, 3
Siloé Bar & Grill, Cárcel Baja, 4
Bar Rojo, Laurel de las Tablas, 10
Ristorante Gallio, Plaza Bib-Rambla, 14 – Lasagna Casa lingua (header photo – seen on top of article)
Restaurante La Noria, Ánimas, 7 – Fried Rice with Quails Egg (shown below)
Restaurante Carmen de San Miguel, Plaza Torres Bermejas, 3
Picoteca 3 Maneras, Santa Escolástica, 19 – Local Vegetables from the Vega (seen below) **2021 FINALIST**
Granada´s Annual Tapas Festival
Mesón Tabarka, Campo del Príncipe, 15
La Taberna de Kafka, Calle Huete, 2 (Campo del Príncipe)
María de la O, Carretera de la Sierra, 13 – Sturgeon toast with panceta
Restaurante El Coso, Avenida Doctor Oloriz 14 – Bread with salchichón **2021 FINALIST**
Rincón Los Carmenes, Plaza Ciudad de los Carmenes, 2 – Couscous with locally sourced lamb from Sierra de Segura
Restaurante Ramírez, Avenida Dr. Olóríz, 14
Alquería La Caleta, Plaza de La Caleta, 3 – Cod crunch
Hotel Camino de Granada, Ctra. Antigua de Málaga s/n
Restaurante Los Marines, Doctor Vaca de Castro, 2 (Esq. Av. Andalucía)
El Cordobés Café y Tapas, Avenida de Maracena, 107
Cafetería Sibarita, Ctra. Antigua de Málaga, 81 – Fish Espeto ** 2021 FINALIST**
Irving 12, Washington Irving, 12 – Vegan croquette with black rice
Los Toscares, Periodista Eugenio Selles, 12
Gastrobar Qubba (inside Hotel Saray) Tierno Galván, 4 **2021 Winner**
Hotel Andalucía Center Avenida de América, 3 – Vermouth with tapioca cracker and fish. (photo above) **2021 FINALIST**
Moko Kitchen & Drinks Doctor López Font, 6
La Casa del Arroz (inside Hotel Barceló) Maestro Montero, 12 **2021 FINALIST**
Taberna El Despacho Paseo Jardín de la Reina, 10 – False Fried Egg (seen below)
Granada de Tapas 2021
Malahermosa, Calle Pedro A. de Alarcón, 86 Tataki of pajuna beef, hollandaise sauce and baby broad beans. **2021 FINALIST**
Taberna El Vinillo, Calle Sol, 21
La Verea, Calle Pedro Antonio de Alarcón, 83 – Tuna with guacamole
El Volunto, Calle Sol, 22 – Cod in prawn sauce
La Macetilla, Infanta Beatriz, 3 – Club sandwich
Panema Gastrobar, Camino de Ronda, 100 – Eggs, potatoes and ham.
Puerta de la Alpujarra, Carril del Picón, 26
Bar Salitre, Plaza Albert Einstein, 3 – Squid with asparagus
Biggie´s, Gonzalo Gallas, 13 – Torrija
Summary
Article Name
Tapas Bars compete in Foodie Festival ´Granada de Tapas´
Description
Granada de Tapas festival happens each March. Local Tapas Bars offer their best creations. Granada Tapas fair is a delicious way to see the city. Cervezas Alhambra often showcase new products at this time of year too.
Author
Publisher Name
Publisher Logo