Best Tapa in Granada
In April Granada Tapas Bars Festival begins.
The ´Mejor Tapa del Mundo´ will be held fromThursday 5th April until Sunday 15th April 2018. 25 chefs from Granada will present this foodie festival to showcase one of the main attractions of Granada, locally produced food and it´s Tapas culture.
The chefs must be able to prepare the tapas in under 10 minutes and it will need to be eaten without the use of a knife.
These high quality tapas will be on sale throughout the 10 day festival for 3 euros.
The winner will receive 3000 euros as well as the title ´Best Tapas in the World´
Another recognition ´Sabor Granada´ will go to the best tapa made with Local ingredients from Granada province.
Mejor Tapa del Mundo
Participating restaurants are:
Asador Centro, Plaza Bib Rambla
El Conjuro, Calahonda, Motril
El Secreto de Humphrey, Calle General Navarez
Hotel Saray Calle Profesor Enrique Tierno Galván
La Causa Mediterránea Nikkei
La Cuchara de Carmela Paseo de los Basilios,
La Milagrosa Calle Jaudenes  (photo below)
Laseda  Plaza Bib Rambla
Los Pinos Casa de Comidas Paseo de los Pinos, Huétor Vega
Oleum Restaurante Calle San Anton
Sancho Calle Tablas 
Sibarius Plaza Bib Rambla
TTT Granada Calle Angel Ganivet
Vinoteca Vega Realejo, Off Calle Varela
Marely Casualbar
Garden Plaza
Príncipe 17 Resto-Bar
Puesto 43
There are also 7 Tapas Bars and Restaurants that travel to Granada to participate in this festival:
Batik, (Málaga)
El Quinto (Gijón)
El Jardín (Madrid)
Es Molí des Comte (Palma de Mallorca)
Haritza (San Sebastián)
Lihados (Sabadell)
Yubá (Málaga)
Local Granada Tapas with me
If you want to discover Local Chefs, Traditional Businesses and the best foodie corners of Granada.
Come along with me and experience the Taste of Granada Tour.  Each day this city walk leads you to some of the local shops to sample different products grown in the province. You will also get to see creations of local chefs and step into family run businesses spanning 4-5 generations.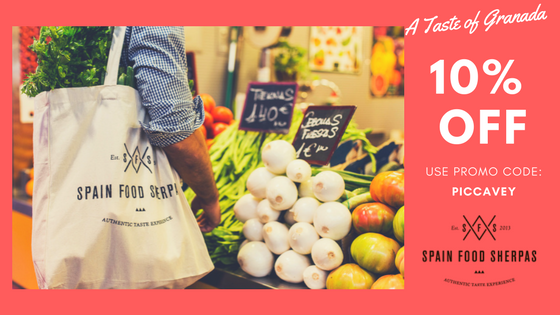 At the moment Spain Food Sherpas are kindly offering Piccavey readers 10% off for these tours.
Use when booking on their website with the promo code below.
Foodies visiting the Alhambra can also enjoy local produce and Andalusian culture when staying in the city.
Granada de Tapas
Every year in March Granada Tapas Fair comes along. Local Bars and Restaurants in Granada compete in the Annual Tapas Fair.
This local food festival is where chefs compete to win the Best tapa of the city.
The 10th Edition of GRANADA DE TAPAS runs from Thursday 1st until the Friday 16th of March 2018.
The winners will be decided on Saturday 17th March at Granada Town Hall.
Local Tapas Bars show their best offerings during this food week in Granada
Tasting New Dishes
In previous editions of the Tapas Festival there have been over 150 entries.  A great way to showcase the best creations and  quality local produce from local area.
During the first two weeks of March the participating bars offer their entry in Granada de Tapas to customers.
So you can actually try these creations during those dates.
Tapas Bars Compete
So how do they choose the winner?  A panel of Food Critics & Hospitality experts taste all the entries from 1st March until  they have managed to sample them all. A short list is prepared and from that the winners are decided.
There are several categories.
Best Tapa in Restaurant Category
Best Tapa in Bar Category
Most Traditional Tapa
Tapa with a selected wine from the DOP Quality wines of Granada
Tapa with selected beer from Granada´s Alhambra brewery.
Tapa made from Local Granada produce.
Granada Tapas Winners
2018 Winners 
1st place: Restaurante Puesto 43 –
2nd place: Carmen de San Miguel – Gin Tocino with Tea & Honey
3rd place: Restaurante Sancho Original – Suspiro andalusí
Food pairing award: Restaurante Casa Torcuato Albayzín – New Remojón Granadino
Granada de Tapas Festival
In Granada last year around 100 restaurants took part in the competition,
There will be Best Tapa in Bar category and also in Restaurant category.
Some of the Previous Winners have been:
2017 Winner La Milagrosa Irrevente Nicolas Chica with Slow Cooked Segureño Lamb with Loja Cream Cheese, dehydrated tomato from Zafarraya
2016 Winner Loewe Gastrobar Chechu González Bull Tail canelloni with mango and octopus
2015 Winner Boqué Bar Antonio Cañizares Fish Tomato & caviar
2014 Winner Mandala  Egg foam with potatoes, chistorra and black pudding crackers
2013 Winner Panoramic 360 Secreto ibérico relleno de calabaza al ajillo envuelto en costra de frutos secos con cristal de patata, aire de queso de cabra
2012 Winner Carmen de San Miguel 
2011 Winner Saffron Gastrobar Brocheta de pollo y manzana en tempura crujiente de Alhambra de 1925 sobre puré de aguacate tropical y jengibre
Make sure you see as many of the participating bars and restaurants over the days of the festival.
You may be lucky enough to savour one of the winners!
You might also like these other foodie posts: