The Dance festival is held every Summer at the Alhambra Palace in Granada, Spain. The FEX International Music and Dance festival is a prestigious summer event. Well known in Spain and further afield. In fact as soon as the tickets go on sale they tend to sell out quickly.
The curtain goes up on 21st June 2020 for the 69th Festival Internacional de Música y Danza. Confirmed as of 24th May 2020.
The festival lasts for 17 days right up until 12th July 2020. With artists, musicians and dancers coming from around the world to perform, this magical event takes place within the grounds of the Alhambra palace.
2020 Music & Dance festival in Granada
Useful Information
Dates: From Sunday 21st June until Sunday 12th July 2020.
Venue: Alhambra Palace, Granada – Different locations around the grounds such as Generalife theatre
Ticket sales are not yet on sale for 2020. More details to come on 20th May 2020.
Official ticket website Granada Festival Tickets  On Sale from Tues 16th June 2020.
Ticket office at Corral del Carbon, off Calle Reyes Católicos (seen below)
Beethoven
This edition is celebrating 250 years since the birth of Beethoven. Yet each year the festival has a different theme. Last years festival, 2019 had a record attendance of 52.000 spectactors.
Highlights of this years Edition are:
Daniel Barenboim on Friday 24th of July at 9.30pm . Proceeds will be donated to the Red Cross (Cruz Roja) for Covid 19 support.
Miguel Poveda performs at Teatro del Generalife on Friday 24th July at 11pm.
FEX Ticket Sales
Began on Tuesday 16th June 2020 on the Festival Official Website.
Please note that this year there are social distancing measures in place.
A Face Mask is obligatory for all spectators throughout the event
Arrive 1 hour before the start of the concert to be able to safely enter the space.
One of this years performances is
Bertrand Chamayou
Genre: Piano
Location:  Patio de los Arrayanes, within the Alhambra Palace
A romantic piano recital by French Pianist Bertrand Chamayou. Liszt and Ravel feature in this evocative performance in a memorable setting.
Other Venues at the Dance festival
Auditiorio Manuel de Falla – Opposite the Hotel Alhambra Palace and next to Carmen de los Martires
Patio de los Alijbes – Inside the Alhambra grounds next to Palacio Carlos V and Puerto del Vino
Palacio de Carlos V – Inside the Alhambra Grounds
Corral de Carbon – Monumental Building off Calle Reyes Catolicos near to Granada Town Hall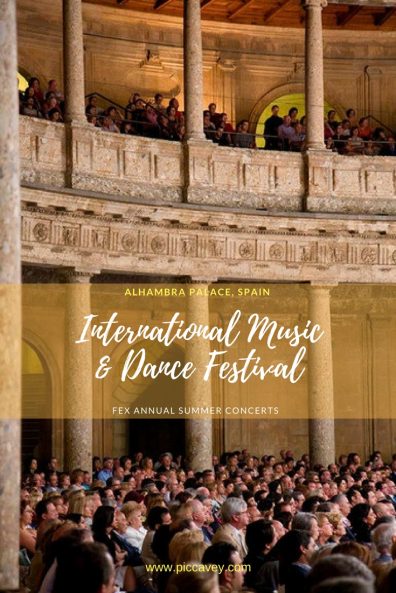 Granada International Music & Dance festival 2021
The dates for the 60 year anniversary of the Festival are confirmed.
FEX 2021 will be on 18th June to 18th July 2021.
Summary
Article Name
69th Alhambra Dance festival - Granada´s FEX Summer Concerts
Description
the Dance festival in Granada takes places in the Alhambra palace each summer. Enjoy International Ballet + Flamenco in Granada Spain at the UNESCO World Heritage site. FEX 2020
Author
Publisher Name
Publisher Logo