Each Summer the FEX, International Music & Dance Festival is held at the Alhambra Palace. This prestigious festival is well known in Spain and further afield.
In fact as soon as the tickets go on sale they tend to sell out quickly.
The curtain goes up on 25th June 2020 for the 69th Festival Internacional de Música y Danza.
The festival lasts for 17 days right up until 12th July 2020. 
With artists, musicians and dancers coming from around the world to perform, this magical event takes place within the grounds of the Alhambra palace.
2020 Music & Dance Festival in Granada
Useful Information
Dates: From Thursday 25th June until Sunday 12th July 2020.
Venue: Alhambra Palace, Granada – Different locations around the grounds.
Ticket sales are Online from Mid April> Granada Festival Tickets 
Ticket office at Corral del Carbon, off Calle Reyes Católicos (seen below)
Beethoven
This edition is celebrating 250 years since the birth of Beethoven. Each year the festival has a particular theme. Last years festival in 2019 had a record attendance of 52.000 spectactors.
Ticket sales and the final 2020 programme are not yet available. I will update this post as soon as details are published.
One of last years performances was…
Kristian Bezuidenhout
Genre: Piano
Location:  Auditorio Manuel de Falla (opposite Hotel Alhambra Palace)
A 60 minute piano recital (no interval) by Kristian Bezuidenhout, born in South Africa and trained in Australia.
Some of the classical pieces during the concert are:
Clara Schumann – 4 Píèces fugitives, op. 15 & Romance en la menor
Felix Mendelssohn  – Preludio y Fuga en mi menor, WoO 13 & Tres fantasías o caprichos, op. 16
Johannes Brahms –  Intermezzo, op. 117 núm. 1
Waltzes, op. 39 (selección) Intermezzo, op. 117 núm. 3
Lieder ohne Worte (selección)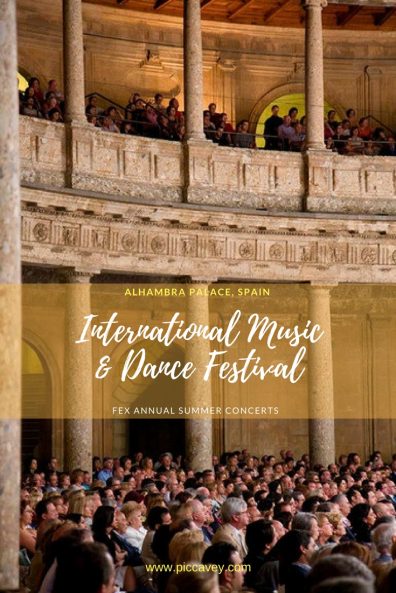 Granada International Music & Dance Festival 2021
The dates have already been confirmed for the 60 year anniversary of the Festival.
It will be held on 18th June to 18th July 2021.
FEX 2021