In late November 2012 I enjoyed a city break in Valencia. I hadn't visited the city before.
The city was just halfway point between Barcelona and Granada for me. I'd seen the city outskirts from the road but didn't know much more about the place.
Agua de Valencia
When I arrived on Friday evening I headed straight out into the old part of town to try the well known drink Agua de Valencia.
Valencia of course infamous for it's oranges (and paella) This drink is a combination of fresh local orange juice, cava, vodka and gin. It was created in the late 1920´s using the local fruit and it is delicious.
Ingredients to make Agua de Valencia:
One Litre of Cava
One Litre of Freshly Squeezed Orange Juice
500ml of Vodka
500ml of Gin
Ice cubes, Slices of Orange and Sugar to taste
Once I´d tried the local drink and caught up with some friends I retired to my hotel at a decent hour. I wanted to be up early on Saturday to enjoy the sunshine.
Hospes Palau de la Mar
I chose to stay at the Hospes Palau de la Mar. I hadn't know at the time of booking but often the top Spanish Football teams stay here when they play against Valencia CF.
It was a wonderful hotel nothing was too much trouble for the staff. A perfect setting for a weekend break.Valencia Oranges
In the morning there were plenty of oranges on hand to make fresh zingy juice. The breakfast was a wonderful selection of yoghurt (made in their kitchen on site) cheeses, fresh fruit, pastries, cold meats and jam. I even had a selection of UK press to read.
Stepping out of the hotel after breakfast I was met with this bright blue sky.
Happy wintry sunshine. Not a bad Saturday for November.
I beganto walk into the old part of town, passing by this elegant archway. The Puerta de Mar. As I made my way into the centre of the city itself the streets became narrower. Oozing character and charm as I turned each street corner.
These baskets caught my eye as I walked past this traditional shop. The round ones are for collecting snails in the campo. Fascinating.
Fallas Festival
Along one street I stumbled across this. A party was being set up. A celebration for a Fallera. The selection of the Fallera happens months before the local festival of Las Fallas. Fallas is a festival with lots of bonfires, fireworks and bangers. Not for the feint hearted. It will be celebrated on March 19th.
The traditional dresses that the fallera girls wear are intricately embroidered and cost a lot of money due to the fine fabrics and threads used to make them.
As I come to the main square of Valencia. I see Valencia Cathedral, the town hall and the post office building. It is an impressive group of buildings with colourful well kempt gardens in the central area.
The Silk Exchange, Valencia
For me personally the highlight of the city was the UNESCO world heritage site. The Silk Exchange or Llotja de seda. Built in the 1500's, the detail and care in the monuments conservation is outstanding.
The Hall of columns seen below, was the main trading room. Merchants from all over Europe would meet here to trade in silk. This was used over several centuries.
Outside if you take a moment to look up high you can see lots of intricate gargoyles on the facade. These stone carvings on this Gothic style building are dramatic and detailed.
More things to do in Valencia
The city of Valencia pleasantly surprised me. I had no idea that the city has so much to offer. I is the 3rd largest Spanish city. I didn't even manage to visit the Ciudad de Artes y Ciencias which is one of the main attractions for visitors.
So I'll have to get around to that next time!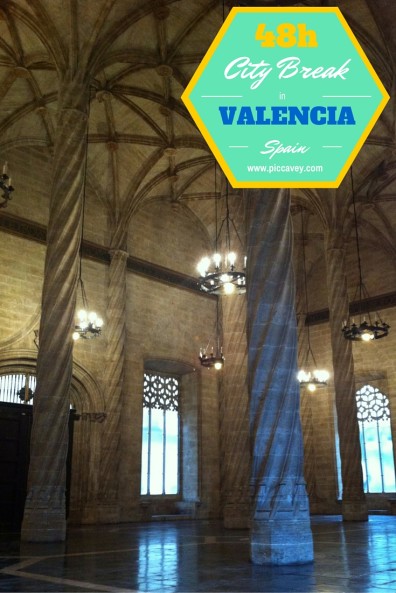 Please Note:
This post contains affiliate links, which means that if you click through and make a purchase, I will receive a small commission. All thoughts, feelings and opinions shared on this blog and in this post are my own.