Valencia is a vibrant, cosmopolitan city on the Mediterranean coast of Spain. With a population of around 800,000, its the Valencian Autonomous Community´s Capital. That region also includes the Castellon and Alicante provinces too. The city is famous for Valencia oranges, Paella and Fallas Festival. It is also the 3rd largest city in Spain.
Safe travel to Valencia in 2021
As travel starts up again in the 2021 season there are still some COVID restrictions in place in the Comunidad Valenciana. For example if you travel to the region for a city break or holiday you will be able to visit that specific area. However you would not be able to move around other areas of Spain with the current restrictions (April 2021).
Curfew is at 10pm so you are free to enjoy your day until then. Restaurants, shops and many tourist attractions are open for business. They have a limited capacity and hygiene measurements in place. Mask wearing is obligatory both indoors and outdoors.
As Valencia has such a great climate, spending time outdoors is part of the lifestyle. Whether on the beach, walking around the city or on one of the patios sipping something nice will make your holiday safer and more enjoyable.
Currently Valencia has very low incidence with 35 cases per 100,000 (on 9th April 2021) the lowest in Spain and also compared to some parts of Europe.
What to see in Valencia
Having visited the city quite a few times now. I thought I would share the must see spots in the city of Valencia and write up my insider tips to have a great time this spring/summer season. As travel begins to open up again, Valencia is a great destination to experience Spanish culture and gastronomy. The city also has beaches to enjoy too.
Fallas Festival
The Fallas is a noisy celebration that happens each springtime. Expect lots of bonfires, fireworks and bangers. Large papier maché sculptures with topical themes adorn different parts of the city. They go up in flames to celebrate the end of Fallas week. Yet in 2021 Las Fallas won´t be celebrated as usual.
Normally it´s celebrated in Mid March yet due to COVID restrictions they have postponed it to Summer 2021. There are usually huge crowds for the festival. So it needs careful planning. The announcement is due May 2021 and could happen in July 2021. Another possibility is to push the celebration back to October 2021.
Usually a few weeks before the festivities, the selection of the Fallera Mayor happens. The Falleras are girls wearing typical Valencia dress. (Photo above) Intricately embroidered dresses which are made with only the finest fabrics and threads. All the hair accessories and jewellery also follows the tradition too. Find out what a normal year looks like at the Festival of Las Fallas in this post.
This festival has even been recognised by UNESCO as Intangible Heritage of Humanity, When you visit Valencia you can learn about Las Fallas at the Museo Fallero on Calle Monteolivete 4. Inside this Fallas Museum you can see the Falla large scale models that were not burnt in previous years. There are some of the stunning Fallera dresses on display too. They open everyday from 10am. It costs 2 euros.
Valencia – Where to Stay
Valencia has some great accommodation options. I like to choose hotels as close to the historic centre as possible when I travel in Spain. Valencia hotels that I have stayed in on past trips have been Hospes Palau de la Mar and Hotel Dimar.
Both hotels are located in the same area of the city, just off the Gran Via Marques de Turia. With plenty of Bars, cafés and restaurants on the doorstep, I found both stays comfortable and practical.
Breakfast at Hotel Dimar:
Puerta del Mar
The Puerta del Mar was very close to the hotel where I stayed on my last trip. I loved to walk past this grand archway each time I left my accommodation. Built in the 1940s it is a reproduction of an gateway, at the entrance of the port of Valencia.
The original archway was built in 1356 as part of the medieval city walls. Sadly it was demolished many years ago. The Torres Serranos were also part of that same historic wall and can be visited. The panaromic view from the top is fabulous.
The Silk Exchange
For me personally the highlight of the city is the visit to it´s UNESCO world heritage site. The Llotja de Seda was built in the 1500's and used as a Silk Exchange. A trading centre where merchants from all over Europe would meet here. Used over several centuries, the hall of columns was the main trading room in the European Silk Industry.
Lonja de Seda
The grand building is Gothic style architecture and dates between 1482 – 1548. Both the outside and inside are equally impressive. Take a moment to look up high and notice the intricate gargoyles on the façade. These stone carvings are very dramatic and extremely detailed.
Opening hours at the Lonja de Seda are 9.30am to 7.00pm Monday to Saturday. On Sundays it opens from 9.30am until 3.00pm.
Find out more about the Silk Exchange and it´s historical importance on the Silk Route Guided Tour in Valencia.
Did you know that the first University in Spain was founded in Valencia in 1209 by Muslims?
City of Arts & Sciences
If you have several days in Valencia, spend one of them at the Ciudad de Artes y Ciencias it´s one of the main attractions for visitors. Spread over a large area which was previously a riverbed. This modern complex has A Science Museum, an Ocean graphic, Opera house and the Hemispheric including a IMAX 3D cinema as well as other attractions.
I didn´t have much time the day I visited and only managed to see a small part of the Science Museum. The modern architecture makes this one of the most photogenic parts of Valencia with all the whiteness and sharp lines.
Agua de Valencia
When you visit Valencia don´t miss the delicious drink Agua de Valencia. This is a combination of fresh local orange juice, cava, vodka and gin. Created in the late 1920´s using the local fruit and it is delicious.
How to make Agua de Valencia
One Litre of Cava
One Litre of Freshly Squeezed Orange Juice
500ml of Vodka
500ml of Gin
Ice cubes, Slices of Orange & Sugar to taste
Valencia Cathedral
The Cathedral tower´s name is Micalet. Built in the 14th century Valencia cathedral has suffered alterations over the centuries. The Cathedral is Gothic style and was consecrated in 1238. Inside it has a Holy Chalice which is believed to be the Holy Grail. With inscriptions from the 1st century this came to Valencia in the 1400s via the king Alfonso V of Aragon.
Shopping in Valencia
The Corte Ingles next to the Ciudad de Artes y Ciencias is huge. With 9 floors its the largest department store in Valencia. This is a good option if you have parked nearby as you can walk from the Science Museum area or Oceanographic to get to the store.
For high end and designer shops head to the area around on Carrer del Poeta Querol. Louis Vuitton and Michael Kors have shops here for example.
For high street stores and the main commercial area look at the Carrer de Colon area.
Back into the old town and I noticed these baskets seen above. The round ones are for collecting snails in the campo.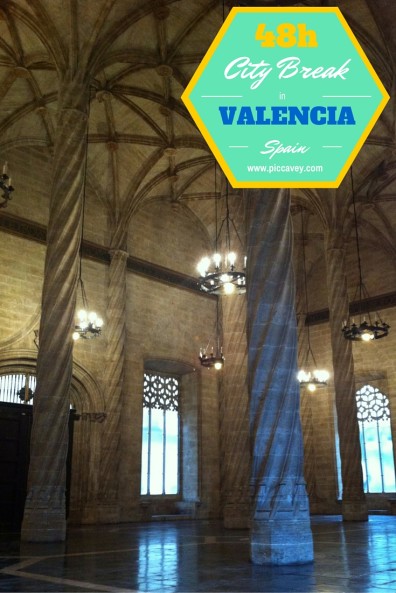 Paella Valenciana
The parque natural de l'Albufera is where rice is grown and the home of the Paella Valenciana.
You can take a bus tour to see this area and even get on one of the boats around the paddy fields. I visited Restaurante El Rek one Sunday to try their Paella. There are many restaurants in this area.
Please Note:
This post contains affiliate links, which means that if you click through and make a purchase, I will receive a small commission. All thoughts, feelings and opinions shared on this blog and in this post are my own.