The Paella had humble origins as far back as the 15th-16th century. Yet has become known as Spain´s national dish. Originally from Valencia and Alicante regions. The traditional Valencia Paella is often misrepresented.
An authentic Paella does not have seafood in it. Lets take a look at the Valencian Paella in more detail.
Valencian Paella
The ingredients in a typical Valencian Paella are the following ones:
Chicken
Rabbit
Green beans
Garrofóns White Butter beans
Tomato
Water
Salt
Saffron
Rice
Pimenton (optional ingredient) as some places use it, some don´t.
Rata de Marjal
There are no fish or seafood ingredients in the original recipe. However in some areas such as Silla (Valencia) originally they locals would use whatever they had to hand. Rodents such as voles (Arvicola sapidus) found in the marshy areas or Eels would be the protein source centuries ago. Snails or artichokes maybe added to this recipe too.
Usually cooked outdoors on a wood fire, traditionally orange tree wood would often be the fuel using for cooking the Valencian Paella.
Learn to Make Paella
You may like to learn how to make Paella yourself.
In Valencia the best option for this would be to book one of the official Valencia workshops.
You can book online here:  Spanish Paella Course in Valencia
Many say that they key to the Paella is the sofrito.
The base of the recipe is the tomates, onion, red peppers and olive oil. Occasionally garlic too.
Generally if you have a good tasting sofrito then the rice will take on that flavour as soon as it´s added making sure that the dish is tasty.
Albufera
Since 1238 rice has been grown in the Valencia region. Although Ruzafa was the original area of rice plantations. Some years afterwards the crops stretched out as far as the Albufera. Around 25 kms (16miles) from Valencia city centre.
This natural lake is the perfect climate and geography for rice, and is now the home of Paella.
To visit this area you can book a tour of Valencia with Albufera included.
You can taste a paella with views of the lake in one of the typical restaurantes. Boat rides are available in this area too. The day I visited in April 2019 it was not such good weather  : (
What is Socarrat ?
Socarrat is the crispy rice left on the paella pan at the end. This is the mark of a well made Paella. It doesnt always happen.
In the photo below you can see the centre of the pan the crispy toasted grains of rice stuck to the pan. Thats the Socarrat.
The rice used in Spain to make paellas is usually Arroz Bomba. If you can´t get that best to select medium grain rice to make it.
Paella Pan
The saucepan in which a paella is made is actually called a Paella. Rather than paellera, which refers to the person cooking it.
Usually 22 cm across or more. The pan is never any taller than 5-10cm. The pan never has a lid. Paella is always cooked uncovered.
Rice with Things
If you remember the controversy caused in 2016 by UK Chef Jamie Oliver. Chorizo being added to Paella caused an outcry. Especially from gastronomic critics and Spanish chefs. Calling for Rice with Things to be used for any dish that wasnt an authentic Paella.
Other Spanish Rice Dishes
As well as the traditional Paella Valenciana, there are many other rice dishes in Spain.
Paella Mixta being probably the most popular.
Arros Negre – Black rice made with squid ink to colour the dish.
Paella Mixta – Meat & Fish are used in this popular paella.
Arroz con Bogavante – Lobster variety is also very well known, particularly on the Spanish Costas
Arròs a Banda – Most typical in Alicante. This rice dish is made with fish. The fish is cooked twice and then served with Alioli (garlic mayonnaise)
How to Eat Paella
The Spanish typically have rice at lunch time especially if its a celebration or family lunch out. Rice dishes are not generally eating in the evening. Carbs are not so suitable for late dinners. 
Usually it´s a meal that is for a group or a family of more than 4. It can be difficult to ask for a Paella for two people.
I would recommend booking at least one day before. Make sure that you are getting a freshly made one for you.
Where to Eat Paella
Albufera (Valencia) – Restaurante El Rek is located within the Albufera and you can enjoy the view over the paddy fields as you dine. Carrer del Pintor Martí Girbés, El Palmar, València
Almeria City – Restaurante el Parque is in the city centre close to the Port of Almeria.  A great option for Seafood dishes, Black rice or Rice with Lobster. Address: Parque de Nicolás Salmerón 9 Almería
Barcelona
Xiringuito Escribá. This beachfront chiringuito is run by the same owners as Confectioners Escribá. (on Ramblas.) Located on Av del Litoral 62, Platja Bogatell, you can´t go wrong with this tasty professionally prepared rice with sea views.
Granada– In Granada city centre there aren´t many places that do good rice dishes. Restaurant los Patos Chef Blas Hidalgo is from Valencia. So there is a little bit of of Levante in Granada to prepare fabulous paellas. They serve Rice dishes and Paellas all year round. Calle Recogidas (esq Solarillo de Gracia)
Nerja – Merendero Moreno on Burriana Beach has been in business since 1965. They do paella and rice dishes regularly. Located in a typical beach hut set up on Paseo Marítimo Antonio Mercero, Playa de Burriana.
Marbella – Los Mellizos, this busy beachfront restaurant is one of the most established in Marbella and they have a selection of different rice dishes to choose from. Paseo Marítimo, esquina Gregorio Marañón.
San Pedro de Alcantara Marbella – Nuevo Reino is the oldest chiringuito, since 1957 and the one of the best places along the Costa del Sol They dont take bookings get there early. Urbanización Castiglione, San Pedro
Valencia – My recommendation is traditional restaurant Raco del Turia.  Open daily. It is best to book your table.  Find them at  Carrer de Ciscar 10, València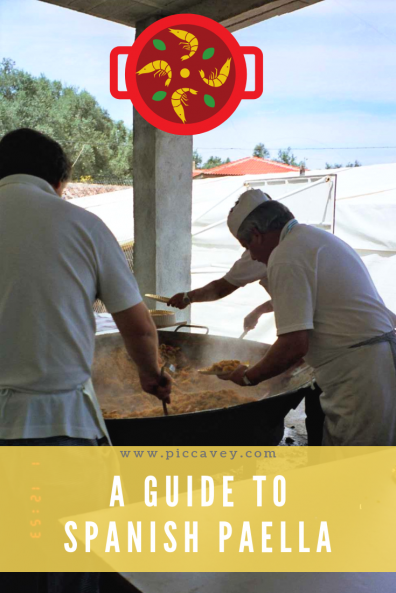 Please Note: This post contains affiliate links, which means that if you click through and make a purchase, I will receive a small commission. All thoughts, feelings and opinions shared on this blog and in this post are my own.
Summary
Article Name
Paella in Spain - A Guide to Eating Spanish Rice
Description
World Paella Day is on 20th September. Discover the origins of Valencian Paella, how its made + when a Paella is not called Paella.This Spanish Rice dish
Author
Publisher Name
Publisher Logo