Granada Tapas Bars
Granada tapas culture is a pleasant surprise for most visitors when they arrive. Tasting delicious free tapas as soon as you get into the first bar. When you request a drink in most bars in Granada you get a complimentary tapa.
Here are places to get typical Granada tapas. I deliberately selected places around the city centre and have been open for years. These are typical Granada tapas bars rather than the new, trendy or up and coming ones.
Om Khalsoum
This cosy place serves Tasty moroccan tapas. This is one of my all time favourites in Granada. Get there before 8.40pm if you want a seat. Its very popular with students and although it opens at 8.30pm it seems to be packed by 9.00pm.
My picks here are the falafel, kebab or couscous with caramelised onion.
You can also get Pastela Moruna to order, not a free tapa but so worth it. (Moroccan chicken pastela)
There are lots of choices for vegetarians here. Saluka, baked potatoes…etc
Address: Calle Jardines 17
Opens: Monday to Saturdays (Closed on Sunday)
They are closed in July & August each year.
Taberna Salinas
Just off Plaza Nueva on Calle Elvira this is a good option for families. They have space inside and outside. Chunky wooden furniture decorates the large bar and it has a great wine list too.
If you want to eat more after a few tapas move into their dining room and ask for raciones or some of the delicious dishes such as fried dogfish, broad beans with egg and ham or a perfectly sliced plate of ham.
Address: Calle Elvira, 13
Opens daily from 12.30 noon until 1.00am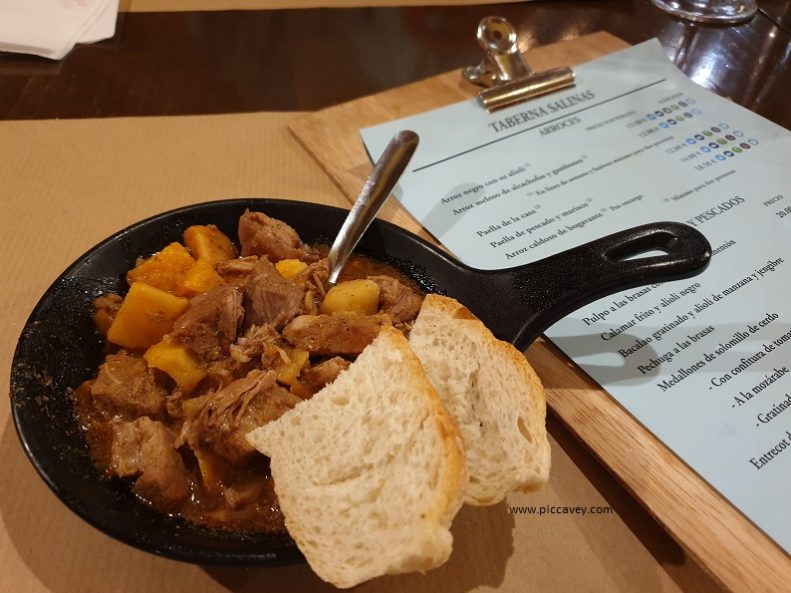 Bar Avila
Full of character, Bar Avila is always packed. Standing room only. The house special here is called Jamón asado. Roast ham atop a piece of white crusty bread. Don´t let the servilletes on the floor put you off.
Its a classic in Granada.
Address:

 

Calle Verónica de la Virgen, 16   (side street opposite Corte Ingles)

Opens Mondays to Fridays 9.00am until 4.30pm 8.00pm to Midnight
Saturdays 8.00pm-midnight
Closed on Sundays
Bar Los Diamantes
The well known Bar Los Diamantes specializes in fried fish. There are a few of these bars now dotted around the city. The original one is on Calle Navas, it´s been there since 1942.
It´s always busy but if you want fish for tapas you can´t go wrong here. The Fried Aubergines (egg plant) are also a firm favourite too.
Address: Calle Navas 28
Opens Monday to Friday 12.00h to 5.30pm + 8.00pm to 2.00am
Saturdays Sundays & Holidays 11.00am to 1.00am
Papuapa
This ecclectic place on Calle Molinos is right at the heart of the Realejo quarter. They have some vegan and vegetarian tapas in Granada on offer. This is also a good place to try craft beers from Granada. The platter above was ordered seperately from the complimentary tapas… delicious mini arepas.
Address: Calle Molinos 16
Opens 12.00h to 11.30pm
Closed on Tuesdays
La Tana
This Wine Bar in the Realejo tends to get very busy. They serve locally produced Granada wine but have an excellent wine selection from all over Spain. Sometimes they offer a guacamole for tapa. When I´m inside it reminds me of being inside a wine cellar as the walls are lined with bottles.
Address: Placeta del Agua, off Calle Rosario
Opens 1.00pm to 4:30pm + 8:30pm–12.00am
Closed on Sundays
Kiosko Las Titas
Located in this wrought iron building on the Genil riverbank. This bar has lots of outdoor seating but does have some tables inside too. With a tapas list to choose from they also offer montaditos and raciones too.
Spanish omelette is a good choice here.
See more here about the difference between Tapas, Raciones + Pintxos
Address: Paseo de la Bomba
Opens daily from 8.00am til midnight.
La Trastienda
This curious place, looks like a delicatessen shop. You walk in, past the deli style counter and through to the seats in the back. This is on a small side street off Plaza Nueva. Tapas tend to be cold cuts and olives here.
Address: Plaza de Cuchilleros, 11 (opposite Plaza Nueva)
Opens Monday to Saturday from 7:30PM–1.00AM
Closed on Sundays
Bodega Los Tintos
The aubergines are so delicious here.Roast ham topped with quails egg is also amazing pick.  As well as the tapas the wine selection is also excellent here. Usually packed with locals it maybe difficult to get a table. Make do with a spot at the bar and tuck in.
Address: Calle San Isidoro
Opens Tuesday to Saturday 1.00pm to 4:30pm then 8.00pm to midnight
Closed on Mondays & Sunday Nights
Closed in August (summer break)
La Entraiya – Casa Rafa
In the Albaicin there are quite a few good tapas places around the Calle Agua & Calle Pagés. However La Entraiya is one of the most typical in the Albaicin. Expect local specialities and a traditional bar atmosphere.
If you choose to stay for lunch their daily menu costs 12 euros for 3 courses and is very good value.
Address: Calle Pagés 15 (Albaicin)
Fridays & Saturdays 9.00am to 11.00pm
Sundays to Thursdays 11.30am to 5.00pm
Closed on Tuesdays
Free Granada Tapas
I like to go for tapas every now and again. But there is much more to food in Granada than the free tapas. They are just a snack, a friendly welcome into the bar. Sometimes visitors don't give the great food on the raciones and menu a second look as they are only sticking to the free tapas.
Here are some of my favourite restaurants in the city if you want to discover local eateries in the city beyond tapas.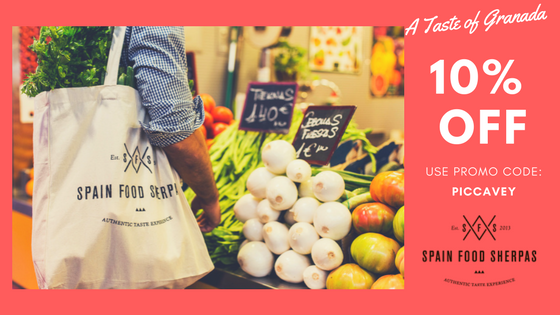 A Taste of Granada Tapas Tour
You can also get a guided food tour in Granada with Spain Food Sherpas.
More details: A Taste of Granada Tour
My readers get 10% off bookings with promo code PICCAVEY
Which is your favourite Tapas place?..
Let me know in the comments below…