Throughout the month of December activities are planned in Granada for the colourful festive season. This Christmas guide to activities runs through all of December and up to January 7th. Nativity Scenes, Shopping tips, Restaurant opening times and Christmas concerts are included.
Nativity Scenes
In the UK and Nordic countries, the switching on of Christmas tree lights is usually an important event. In Granada, the Nativity Scene is the main feature in most shop windows and offices. Christmas trees are not quite as abundant as in other countries. Last year in the official Belen competition, 35 Nativity scenes participated. Although there are actually many more unofficial displays around the city. Every year in Granada has a Ruta de Belenes so you can visit all the nativity scenes. This route is on from 5th December until 5th January.
Some of the most popular ones are:
Granada Town Hall. Set inside the inner patio of the Ayuntamiento at the Plaza del Carmen. Open from 10am-2pm & 5pm-9pm 16th Dec until 5th January.
Granada Cathedral from 19th Dec until 4th January 7pm until 8.45pm Daily. (closed 24th, 25th, 31st Dec and 1st Jan)
Outdoor scene by the Sagrario Neighbourhood group at the Fuente de las Batallas. Open from 11am-2pm and 5.30pm-9.30pm
Condes de Gabia Palace on the Plaza de los Girones. Open from 11am-2pm & evenings 6pm-9pm
Caja Rural at Avenida de Don Bosco (close to Granada Science Park Museum) Open weekdays 6pm- 9pm. Weekends 12h-2pm and 6pm-9pm until 6th January (closed on 24th, 31st Dec & 5th Jan)
Angel Custodio at Calle San Anton 38 from 6pm-9pm. Holidays open from 11.30-2pm. At this Nativity display they also sell traditional Christmas bakes too.
Casa Jaen at Calle Jardines 13 has a large nativity scene inside their courtyard.
Bajo Albaicin Neighbours Association on Calle Zafra 10. This display even includes the Alhambra. Open from 11am-2pm
Casa de los Pisa is just off Plaza Nueva at Calle Convalencia.  Open from 10am to 2pm & 5pm-8pm daily. Open 10-2pm only on 24th, 31st Dec & 5th Jan
Virgen de las Angustias (church below El Corte Inglés)  7.30am to 1.30pm 6pm to 9pm
San Rafael Church on Calle San Juan de Dios open from 12th Dec to 6th January from 10,30am to 1.30pm and 5.30pm to 8.30pm daily.
Bar de Fede (below San Agustin Market) on Calle Marqués de Falces 1 open from 1pm til midnight daily until 6th January 2017
Nativity scenes in Granada province
Alberto Sanchez Nativity Scene in Pinos Puente. Address: Calle Redonda 24. This amazing set up has been going more than 25 years. Open from 1st December until 6th January 11.30 til 1.30pm & 4.30pm until 8pm.
Trevelez, Alpujarra. This village has a Nativity scene based on local traditions. Find it on Calle Carcel next to San AntonionHermitage. Open from 11am-10pm every day.
Huétor Tajar has a nativity scene at Plaza Gregorio Peláez until 8th January. Open from 4pm-8pm daily.
Flamenco at Christmastime
There are lots of Flamenco concerts and typical Rociero choirs on over Chrismastime. At the Teatro Isabela la Catolica this year they have shows throughout December 2016. Tickets can be purchased at the theatre kiosk. (Puerta Real/Fuente de las Batallas)
On Thursday 15th December at the Isabel La Catolica Theatre there is a Charity Flamenco Concert. 5th Gran Gala Flamenca. Tickets cost 15 euros. On sale at the Theatre box office.
The Palacio de Congresos de Granada always has lots of concerts and activites on over Christmas. Find out more information on their website: Palacio de Congresos Granada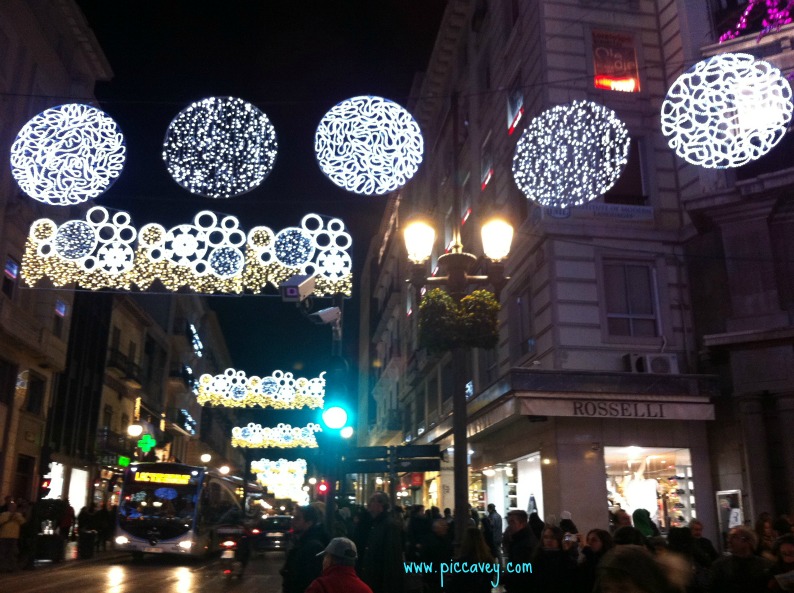 Granada Christmas markets
To find out more about Christmas markets in the city: Click here for the FULL LIST
Other Christmas activities in Granada
Ski season is open at Sierra Nevada. The Pradallano resort is open until the end of April each year which marks the end of the season. Find out more about Skiing in Granada here
On Friday 16th December 2016 a Christmas Fun Run is held in Granada. This colourful event is interesting to see as many of the runners dress up. The race gets to Granada city centre around 8pm-9pm that evening.
On Paseo del Salon there is a Huge Slide which is open until 8th January 2017. Opening Times are 10am to 2pm and 4pm to 10pm.
26th December every year there is a Church service in honour of Patron of Granada, the Virgen of Angustias. Bell ringing is traditional and this ceremony hopes to protect the city of Granada from Earthquake damage the following year.  (Virgen de las Angustias Church on Acerca del Darro)
Eating at Christmas in Granada
The Spanish celebrate Christmas eating lots of Shellfish. The main meal on Christmas Eve is often turkey or lamb.
Sweets are typical too, particularly Marzipan figures and lots of almond nougat which they call turron. Polvorones and mantecados are popular as well.
Restaurants and bars will be open over the Christmas period continually. The days that they will be closed are:
Christmas Eve: On December 24th bars and restaurants are open all day until 5pm-6pm. (no evening opening)
Christmas Day: Bars and Restaurants are open all day as normal.
31st December – Bars & restaurants are open all day until 5pm-6pm.  New Years Eve, For evening meals, only available when pre booked. Many places will be closed.
For information about New Year and Reyes. See my New Year Guide to Granada
Visiting the Alhambra at Christmas
Opening times in wintertime are Monday to Sunday from 8.30am to 2pm and 2pm to 6pm.
The ticket office is open from 8am to 5pm.
The Alhambra is closed on 25th December 2016 and 1st January 2017.
Tickets to visit the Alhambra palace are already sold out on some of the days near the Christmas holidays.
If you would like to visit around this time, book as soon as you can.