The main Christmas market in Granada and lots of festive stalls are set up in the city centre at the beginning of December. Usually around the 1st of December. As this day is the start of the long Spanish bank holiday.
In the Spanish calendar the 6th & 8th of December are national holidays. Marking the celebration of the Day of the Spanish Constitution and the Immaculate Conception. Around those dates as there are several days off work for most Spanish people, they start to prepare for Christmas and begin shopping.
Several Christmas and craft markets are set up every year in the city centre around the December holiday weekend or puente. The festivities over the Christmas period in Spain last until the 6th January.
More information about Nativity Scenes, Restaurant bookings and concerts here> A Granada Christmas Guide
Christmas Market in Granada
Mercado de Navidad in Plaza Bib Rambla
From Saturday 2nd December until 5th January
Closed: 25th December & 1st January
Timetable: Mornings from 11am to 2pm. Evenings from 5pm to 9.30pm
Located close to the Cathedral, on Bib Rambla Square.
Puerta Real de España – Outside the Theatre.
From 1st December until 5th January
Closed: 25th December & 1st January
Timetable: Mornings from 11am to 2pm. Evenings from 5pm to 9.30pm
Located close to Calle Reyes Católicos, in front of Isabel La Católica theatre.
These markets have a selection of artisan and locally produced items. Plenty of items that make good secret Santa gifts or stocking fillers. Leather goods, Puppets, Ceramics, Wooden toys, Jewellery, Organic cosmetics, Glass decorations, Paintings by local artists like Zazu Shop, Hair accessories, Pyjamas, Christmas decorations, Nativity Scenes, Traditional cakes and sweets, and the traditional musical instruments at Christmastime Tambourines and zambombas.
Craft Markets in Granada
Zoco del Salon
This event is next to the River Genil along Paseo del Salon. (below the Corte Ingles) This is a monthly event. The Zoco del Salon at Christmastime will be on . Stalls will be open all day from 10am until 6pm. They sell cosmetics, decorative items, jewellery and fashion accessories.
Made in Granada
Stalls are set up on in Plaza Romanilla behind Granada Cathedral. This small market is held throughout the year usually one Sunday per month. As the name suggests the people are Granada crafters and sell items made with paper, wood and textiles.
The next edition will be published on their Facebook page.
We Love Granada Christmas Market
We Love Granada doesn´t seem to be operating anymore ; (
Pinos del Valle Christmas Market
Saturday 11th December 2021 a christmas market with homemade pastries, crafts and local food will take place in the Church Square (Barrio Alto). This coincides with the Christmas light switch on that evening.
Granada Pinta Bien
On Plaza Bib Rambla this Art Market is on once a month. The December date is 10th to 12th. But you can get all the updates on their Facebook Page Granada Pinta Bien
EcoMercado Organic Market
This organic and slow food market is set up outside opposite the Palacio de Congresos. It´s on the first Saturday in each month. Head over to this Farmers market to buy local cheese, bread, fruit and vegetables. Get all the updated information here: Ecomercado Granada
Guejar Sierra Christmas Market
Each year Guejar Sierra has a festive Market. This quiet town on the road to Sierra Nevada is one of the more popular Christmas markets outside the city. This year they have a Craft market on 4th and 5th December on the Plaza Mayor. Timetable from 11am to 8pm.
There is another one on Saturday 18th and Sunday 19th December at 11am to 7pm on the Plaza Mayor. At 6pm on Saturday evening there will be a street parade with live music. On Sunday at 3pm Chris Millington will perform an acoustic set.
Christmas lights in Granada
The city switches on the festive lights the last Thursday in November. The lights will be on each evening from 6.30pm until the 6th January.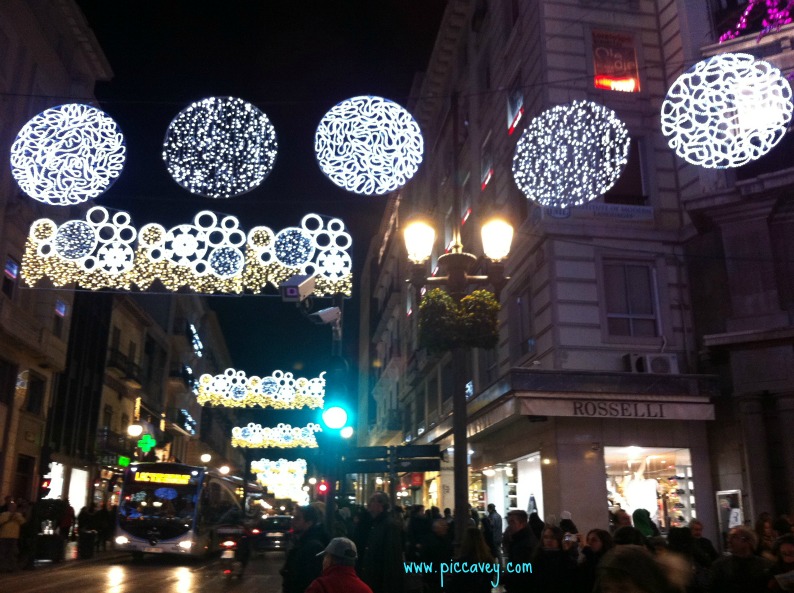 Gift Shops in Granada
Many independent shops in Granada have small items for stocking fillers and Secret Santa ideas.
As well as the Christmas markets some other places to hunt out great gifts ideas are:
La Madriguera
Calle Cruz 2 – If you are a stationery junkie or an artist you will love this store. Packed with pens, pencils and lots of paper, this is an original place to choose a gift. Bags, scarves, mugs, diaries and calendars. All of them would make lovely Christmas gifts.
Lycka
Calle Moral de la Magdalena have lots of toys, home wares and some unusual gift ideas for those people who just seem to have everything. A cork globe where you can pin your travels is something that caught my eye this season for a stocking filler.
High street stores in Granada
The commercial area of Granada are amongst the streets of Calle Reyes Católicos, Calle Recogidas, Calle Alhondiga, Calle Puentezuelas and Calle Mesones. Here you will find the Spanish high street stores such as Zara, Springfield, Oysho, Massimo Dutti and Bimba & Lola. The Corte Ingles Department store is on Acera Del Darro just below Puerta Real.
Christmas Opening Hours
The usual timetable for large stores is from 10am until 9pm Monday to Saturday. Smaller stores will open from 10am to 1.30pm and then from 5.30pm to 8.30pm Monday to Friday. Saturday they will open just in the morning.
In Granada, the shops will open on most Sundays throughout December.
A month of Christmas. The season kicks off on 1st December and lasts until 6th January so it really is a month of Navidad. The celebrations run from 24th December until 6th January. Family parties and gift exchanges are not concentrated just on one date. The main event of Christmas in Spain is celebrated on the night of 5th January and lunchtime of 6th January when the three kings bring their gifts to the children.
January Sales in Granada
Christmas ends on the evening of January 6th. On the morning of 7th January, the winter sales begin.
So the shops will be extremely busy during those first days of the sales. The first Sunday of the sales shops will open from 11am until 4pm. The winter sales will end officially on the 5th of March 2018 in Andalusia.
Did I miss a Christmas market or Local craft events out?
Do let me know in the comments so I can add it to the list.