The Noche en blanco in Granada has been growing in popularity over the last few years. Now an important event in the city´s calendar this takes place one night each year.
You may have heard of the Noche en Blanco in Madrid or other European cities. On these special dates Museums and monuments are open all night for visiting on a special Cultural evening. Many of the organised activities are free.
Noche en Blanco Granada
The activities begin at sunset on and run until the early hours. This years noche en blanco is on Saturday 27th April 2019
There will be over 100 activities on that day, Flamenco concerts, poetry recitals, guided walks and events at the Alhambra palace.
Squares in the city centre will have outdoor activities going on and there will be street artists, flashmobs in the street and art exhibitions.
Granada Cathedral will open up its doors as well as other monuments such as the Casa de los Tiros in the Realejo.
Although the date is approaching fast all the details aren´t quite clear just yet.
Keep checking the official page up to a few days ahead of the event for updates.
Granada White Night Programme
Shops and businesses will also extend their normal opening times for the noche en blanco granada. Most of them will be open until Midnight.
Childrens activities will be held in Parque Federico Garcia Lorca and Plaza Bib Rambla.
Some of the activities promised are Storytellers and Sport activities.
There is also a Craft Market on the Paseo de los Tristes (below the Alhambra next to the river)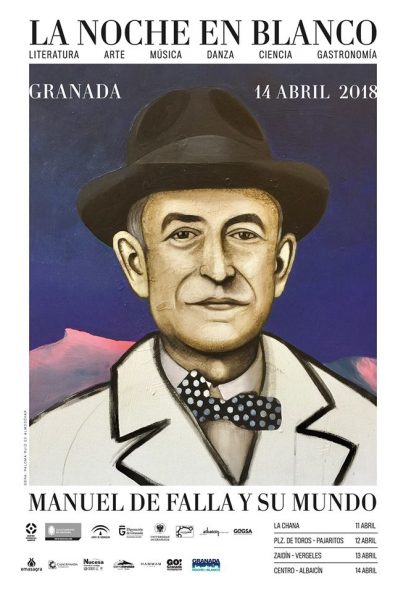 UNESCO World Heritage
This years theme is the celebration of 25 years since Granada´s Alhambra and Albaicin were declared UNESCO World Heritage sites.
Remembering this important milestone for the city through concerts and recitals through the evening´s programme.
The full programme will be added on the official event page closer to the date: Granada White Night
Highlights include
We Love Granada Market on Paseo de las Tristes
Illustrators drawing for Charity at Calle Cruz 19. Participate & support the local food bank from just 1 euro.  Creadores a sueldo at ErranT CoWorking
Free entry to lots of museums and monuments around the city
Late Night Opening at Many Shops & Businesses in Granada
More information at:
Official website: La Noche en Blanco Granada
Facebook page: Noche en Blanco de Granada
They also have a Twitter account too: @NocheenBlancoGR